Wednesday, January 13
At the end of the year I did a Google Reader cleaning. I deleted a lot of feed subscriptions and "un" followed several blogs for the simple reason that I had accumulated so many that it was taking too much time to read them each day. One particular day it took me hours to get through; it began to be a chore that I dreaded because I constantly fell behind and it was cutting into my book reading time and I couldn't allow that to continue. So I made some tough choices. It had to be done. But there were several that I kept because I WANTED to take time out of every day to enjoy them.

Courtney Milan's author blog is one of the ones I enjoy immensely. I found the blog early last summer when Tessa Dare had her first release and I really wanted to read it because her debut, GODDESS OF THE HUNT, received so much crazy blog love. I won GODDESS OF THE HUNT from Courtney's blog, but I have to say that my biggest win was discovering her blog from that experience. Not only does she write great historical romances, but she writes a blog that I love.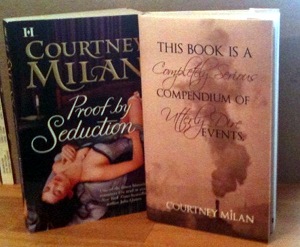 Despite her great Extras page, it's the posts that keep me coming back for more. One of my most recent favorites was her post titled Covering the Cover. In it she humorously talks about how much she loves the sexy cover on her book PROOF BY SEDUCTION, but that you as a reader may feel uncomfortable reading it at work, or in mixed company, or anywhere else. How she used to buy high minded looking books when buying romance novels to hide the sometimes scandalous covers. To solve that dilemma, so that you can read her book wherever you go and not risk censure, she created a "high minded cover" as a book jacket that you can download with instructions on how to use it. I had to laugh when I saw this. I thought it was clever, and funny, and just plain fun. You should check out the post. It will make you smile.
I also really enjoy
Mr. Milan's book reviews
(her husband). He talks about them tongue in cheek from a man's perspective, but somehow it still comes across as a good review of his wife's books because you know that if what he wanted was actually in the book, you the romance reader, would probably hate it. He gives them Sherman Tank ratings, and I love that. Check them out, they will make you smile...actually sometimes they made me chuckle and laugh out loud. That's how amusing they are
.
Here's a small sample of his review of PROOF BY SEDUCTION.
...Courtney's story telling ability when it comes to her heroine is no less frustrating. Jenny Keeble is the only character smart and resourceful enough to challenge Lord Blakely (who presumably doesn't carry rifles in London, for some odd reason), and I have to admit that their (metaphorical) dueling reminded me (metaphorically) of the light saber battles between Obi Wan Kenobi and Darth Vader, or Luke Skywalker and the Emperor, or Yoda and the Emperor. Two skilled combatants, evenly matched, kicking each other's butt.

So how did Jenny get to be such a bad ass? We're told she was sent to a school when she was four and abandoned by her parents, and that she was a troublemaker. She pissed off the old schoolmarm so much that years later, the old crone wants to see her get what she deserves....
But the post that first got me was the one titled
Cover! Books! Exclamation Points!
. She sarcastically talks about the almost non existent changes in her book cover and all the fun you can have when you receive your first box of author copies. Yeah, you guessed it....it made me smile. That's what I love about her blog. Not only does she write great books that I can learn more about, she also supports authors that she likes to read by giving away copies of the books that she has personally purchased, and ...she's fun, and she's funny. I love her sense of humor. And I think we could all use a little more of that in our days filled with commitments and obligations.
Have a great Wednesday! What do you have to share today?
Share the Love is a weekly meme hosted by Seductive Musings every Wednesday.
Every Wednesday post whatever it is that you love on your blog or website.



Then leave a link to your post in the comments on the weekly Share the Love post at Seductive Musings. If you don't have a blog, that's ok you can still share the love in your comment on the weekly Seductive Musings post.


What can you share...well that

depends on what you love :) Here are some ideas: a new blog or website, a great recipe that is a taste bud triumph, new shoes or purse that you seriously can't afford but lust after anyway, a great love story like the ones from When Harry Met Sally, a love note to someone special in your life (or wish was), a book you just adore and can't wait to share with someone, a song or CD that plays on repeat until it's worn out, poems, pictures, videos, or even baby giggles :)

I think you get the idea.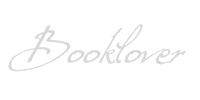 *I am an Amazon affiliate and receive a small (and I mean very small) referral fee for purchases made using a link on this blog. I don't use Amazon to earn money, I use it because the widgets are cool, easy to use, and serve my purposes to showcase books & such with minimal effort, but most importantly they have great prices and offer both new and used items. As a book addict I love that I can find just about anything I want in one place. If you are going to purchase a featured book anyway, and you know you won't pay more by using the links on this blog than you would by visiting Amazon on your own, I will be eternally grateful for supporting this blog by using the links :)