Thursday, November 8
Romance readers may not like it, but the publishing industry is a business and businesses are all about making money. I know there have been several times that a favorite author or series has been let go because of the "business" side of publishing didn't deem it marketable/profitable enough, which has made me sad more than once. On a rational level I can understand that, but on a heart level....I hate it!
Which is why I admire it when an author sticks to their guns and writes what they love, and finds a new way to bring their stories to readers outside of the traditional route much like what my guest author, Jami Davenport, has done. She was writing sports heroes before they gained their current popularity with authors like Jaci Burton. All I can say is "well played ladies!"
Jami is my guest today to share her love of football and sports heroes, including her latest hero, Tyler Harris in Forward Passes. Enjoy!

~~~***~~~
A Different Kind of Fantasy Football—The Sports Hero Genre
My love affair with football goes back many years to watching high school football. I grew up in a small North Central Washington town where football was the only thing to do on a Friday night in the fall. After high school, I attended college at Washington State University and I never missed a home football game. By the time I graduated from college, football was in my blood. Back in the old Kingdome days, I held season tickets to the Seahawks for several years.
Never a fair weather fan, I stuck with my Cougars and Seahawks through the good and bad times, always holding out hope for the best. My interest in football players and what makes them tick led me to dream up stories about them. Over the years, I toyed with writing Romance novels with football heroes.
In 2004 I started writing seriously for publication. My first completed manuscript was a football hero Romance novel. After joining a couple of local RWA chapters, it wasn't long before I started hearing the "rules" of Romance writing. Right up there at the top was the "no sports heroes" rule. I was shocked and more than surprised. It never dawned on me that jocks would be a "hard sell" to New York publishers. After all, who doesn't love a hunky football player? Well, according to mass-market paperback publishers at the time, not too many readers.
Certain my book would be the exception, I submitted to several publishers. Every one of them gave me the same answer:
Thanks, but no thanks. Sports heroes don't sell.
With extreme sadness, I put my book away and focused my writing in other directions. My first book published book was released in 2008. In the meantime, my own insatiable interest in reading books with sports romance heroes was filled occasionally by the few bestselling authors who chose to write a sports romance novel, but they were few and far between.
Reading a book with a football hero is my own brand of fantasy football. My ideal sports hero is arrogant, fit and driven, a man's man who commands respect from other alpha males. He knows what he wants and he goes after it with single-minded determination. His inborn competitiveness defines him. At the same time, he's a good guy with a soft spot for kids and animals, even if he appears to be a very bad boy on the surface. Deep down he's vulnerable and only the heroine can touch his vulnerability and chip away at his brash armor. What's not to love about a man like that even if you don't care for the sport that he plays for a living?
Luckily for readers like me, digital presses have opened up niche markets in the past few years. The demand for books to fill those niches is growing in leaps and bounds. Digital publishing is a big boon for those of us who choose to write books out of the mainstream, books that supposedly don't have mass-market appeal. Since that time years ago, I've published the first two books in my Seattle Lumberjacks football series and seen the demand for sports romance increase. Since I love to read and write them, that's a good thing for me and readers like me.
Quarterback Tyler Harris is about to find the woman who can get past his defensive line and reach his heart.
With two championships in as many years, superstar Tyler Harris is the best quarterback in the league. Gorgeous and rich, he's at the top of his game. But everyone's looking to take him down. There's a building media frenzy around an unfortunate accident, and the only safe place seems a rundown mansion deep in the San Juans and owned by his late great uncle. There, Tyler gets sacked by the sassy redhead next door. It's more alive than he's felt in years.
Lavender Mead has a good reason to dislike jocks, namely an absentee father who deserted the family to coach college football. Maybe that explains her penchant for bad boys who play ball for a living and break hearts for a hobby. Her new neighbor seems just the type. Yet, something is different about Tyler, and sometimes love requires a Hail Mary. You draw back your arm, pray…and give it all up to fate. And sometimes you win your ring.
Thanks Jami for being my guest today, but more importantly for not giving up on your football fantasy!
To celebrate the release of the second book in her
Seattle Lumberjacks series
,
Forward Passes
, Jami is giving away 10 digital copies of Forward Passes during her tour. Enter to win in the Rafflecopter form below, and don't forget to show Jami some comment love and leave a comment/question for her about her book, or this series!
a Rafflecopter giveaway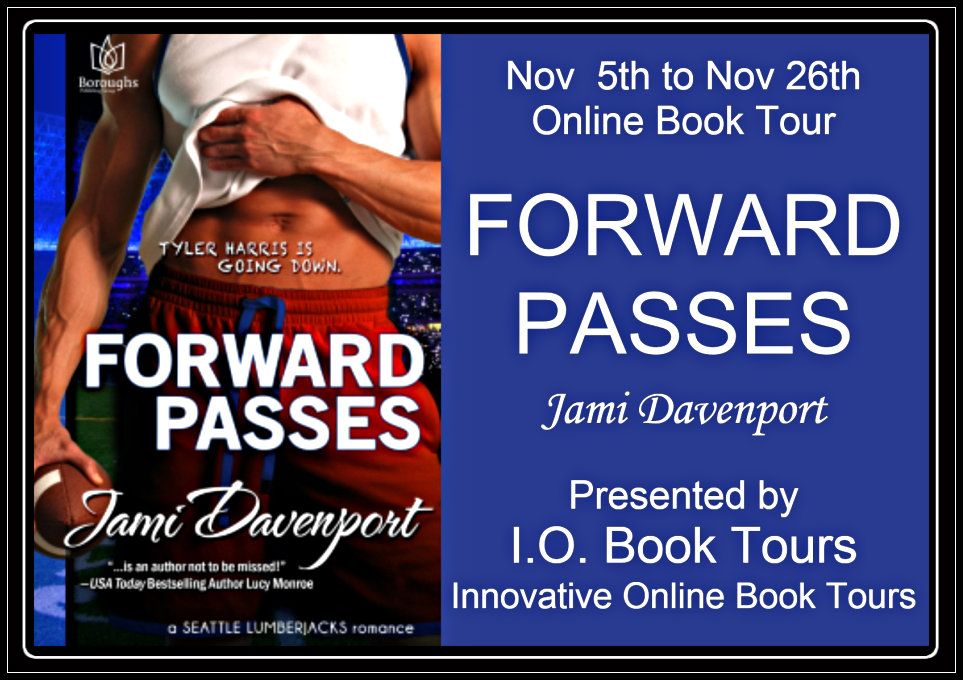 *Seductive Musings is an Amazon affiliate and receives a very small referral fee for purchases made via the links on the blog and through the Seductive Musings Amazon Store. Read the full disclosure here.